Arborist's Guide to the Best Tree Climbing Harness
nick@treestuff.com BigCommerce
Oct 13th 2022
As an arborist, you count on your tools and equipment to help you do your job and to keep you safe while working. Your climbing harness or arborist saddle is one of the more important parts of your climbing kit, so buying a high-quality unit makes sense. You also must inspect it before each use, and replace it periodically, or when it shows excessive wear.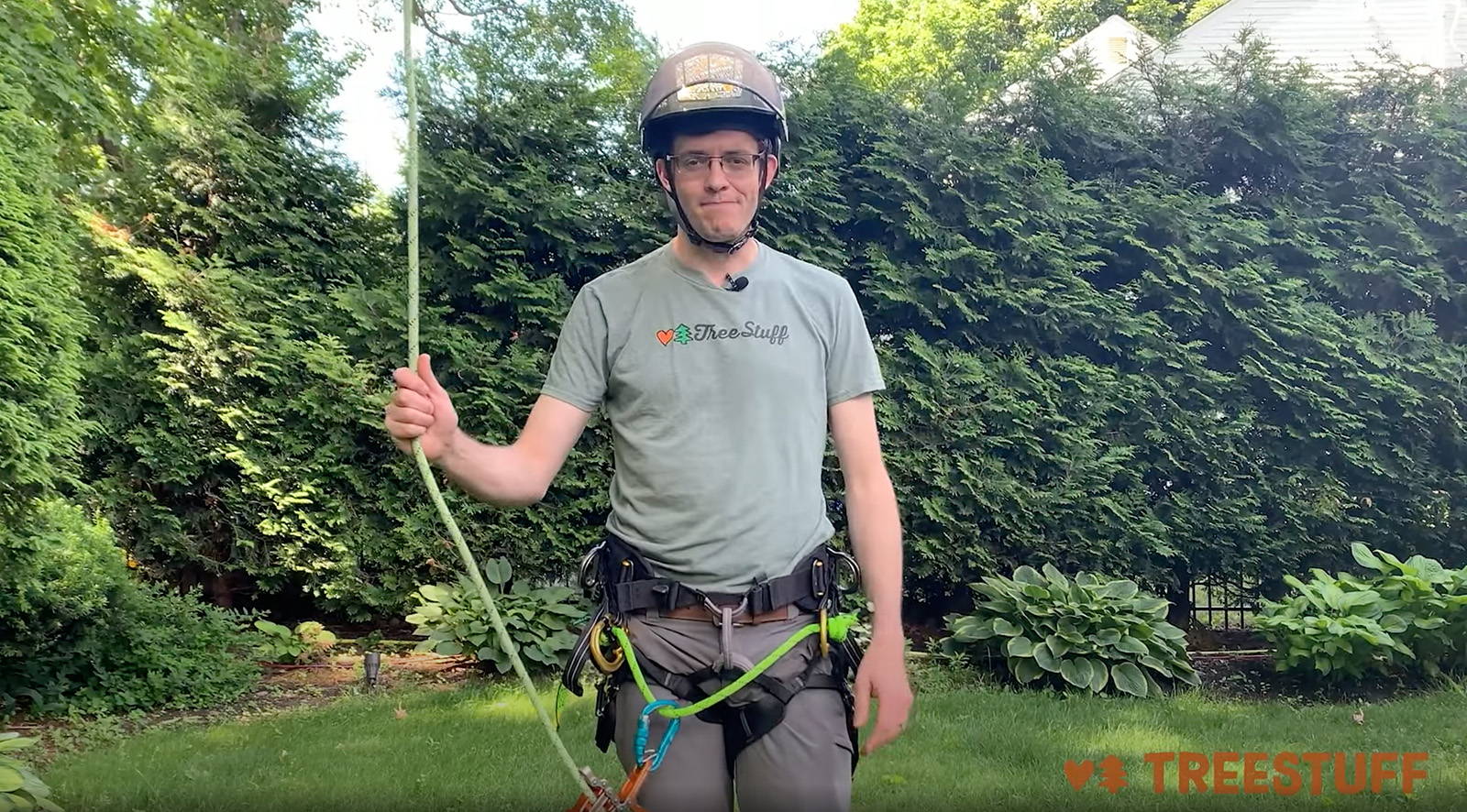 As an arborist, you count on your tools and equipment to help you do your job and to keep you safe while working. Your climbing harness or arborist saddle is one of the more important parts of your climbing kit, so buying a high-quality unit makes sense. You also must inspect it before each use, and replace it periodically, or when it shows excessive wear.
Your climbing harness can be a saddle, which is usually a webbing material with padding that wraps around your thighs and waist area. Add a shoulder harness and you have a more secure safety system—a full body harness—though it may feel more restrictive. The shoulder straps do help to transfer the weight of your tree climbing gear, such as climbing rope, and tools like your chainsaw and handsaw.
Below we'll share our top 6 recommendations for your next tree climbing harness from different manufacturers, and they're all pro quality. They each have a different approach as well, from how they fit to the included features and adjustability.
Safety Standards for Tree Climbing Harnesses
First, let's cover some safety standard basics.
Any tree climbing harness you buy should meet the ANSI A 10.32 standard, which covers personal protective equipment (PPE) and fall protection. The European EN 813 standard, which addresses sit harnesses, is also valid. The Z 133 standard, which covers arboricultural operations, also applies. The standard states that a Type II arborist's saddle shall be worn when working above ground. An arborist's harness is rated specifically for the work that an arborist does regularly, so a rock climbing harness is not adequate for arborist work (more on this topic later).
What size harness do I need?
Trying on at least a couple of different brands and models is a smart move, as you'll want a truly comfortable fit for your work gear. If that's not possible, ask your colleagues for recommendations, and test fit their gear.
This is not a cheap piece of equipment, nor should it be. Each manufacturer will be somewhat different in fit and approach, but you can contact them directly to get more insight into the fit of their harnesses. You'll find that manufacturer specifications are a good place to start, but you have to wear a safety harness to really know how it feels.
For tips on how to properly adjust your harness, check out this video.
Our Top 6 Tree Climbing Harness Picks
1. Notch Black Sentinel Harness
Check out the Notch Sentinel harness for a next-gen unit designed specifically for maneuverability. This is one of the most user-friendly harnesses on the market today. You get a copious number of attachment points, as well as thumb friction buckles. The mesh padding provides high breathability as well as more comfort, and you can adjust most parts of the saddle to get the custom fit you want, as well as position your tools just as you want.
Check out our 360 video for a full look at the Sentinel Harness:
2. Teufelberger TreeMotion Pro Saddle
For a hard-working tree climber, a 10-year harness is a fantastic value. Teufelberger's TreeMotion Pro Saddle offers just that, and continues their tradition of improving their products year by year. If you've ever used the TreeMotion Essential and are looking for a replacement, this saddle has some nice upgrades. The Pro's quick release buckles make adjustment easier for experienced climbers, it comes with upgraded comfort padding, and offers more bracket options than the Essential.
As one of our most versatile options, this Treemotion harness is also available in our Advanced Tree Climbing Kit. Check our list below to see all the pieces of equipment that come in this quality climbing kit.
You also get four attachment points for suspenders or chest harness, as well as optional double bridges and easy replacement of the hip/leg connections.
We also like the TreeMotion Pro because it's super versatile for tree climbers of any size and any climbing style, so if you tend to climb both SRT and DRT, this could be a great choice for you.
3. Petzl Sequoia SRT Saddle
Add SRT functionality to the best-selling Sequoia and you have the Sequoia SRT Saddle. With three sizes, the Sequoia SRT will fit most tree climbers and is appropriate for beginners on up to veterans. As you'd expect, the Sequoia offers multiple attachment points for your lanyard, attachment bridges, and tools.
4. Camp Tree Access Saddle + SRT Chest Harness
Camp's classic tree climbing saddle offers exceptional comfort and ergonomic support with a specialized design towards SRT climbing. The saddle's mobile bridge system allows you to fine-tune your hanging position, and multiple attachment points offer full customization with gear loops, D-rings, and carabiners. You'll find just two sizes, so you know it's highly adjustable.
You can add the Camp Tree Access SRT chest harness for a full-body fall arrest harness that makes the ultimate SRT climbing set.
Check out our 360 video for a full look at the Camp Harness:
5. Edelrid TreeRex Saddle
Considered one of the most versatile arborist harnesses, the Edelrid TreeRex is about providing options. The rope bridge and leg loops are easily adjustable, and it comes with an adjustable SRT bridge. Buckles are triple lock and you get and EN 359 rated eyelet for the chainsaw. Multiple connection points carry other tools and your first aid kit.
Check out this video to see this favorite tree climbing saddle for yourself:
6. Buckingham Ergovation Tree Saddle
Lower back support can be a challenge in a sit harness, so check out the Ergovation Tree Saddle. The modular design lets you customize just for your frame, aligning the pelvis for better comfort. If you're looking for a saddle that will make tree climbing more comfortable or pain-free for you, we recommend taking a close look at this option. Buckingham included several features in this saddle to enhance ergonomics and comfort:
Design structure that distributes the load to decrease pressure on the pelvi

Extra padding in the hip and pelvis region compared to other harnesses on the market

Waist tensioner for abdominal stability

Customizable lumbar support
See a 360 degree view of the Ergovation here:
The Difference between Tree Climbing and Rock Climbing Harnesses
Climbing equipment might seem to be adaptable across tasks, but rock climbing and tree climbing equipment are quite distinct. When you compare these two types of harnesses side by side, you'll notice how much heavier and robust the tree climbing harness is. These units are designed to hold the weight of you and your tools and safety equipment while you hang comfortably so you can work, and to enhance your work positioning so you can continue without becoming fatigued. They also, of course, can save your life by preventing a fall.
A rock climbing harness, in contrast, is designed to be lightweight and comfortable while the user is on the move up and down the rock face, not when sitting and working in a tree. It's designed to halt a falling climber, but not support the climber's body while working. Thus, while they may be strong, they can be uncomfortable with tension on the rope. The leg straps may be too narrow to distribute the load, causing constriction and discomfort.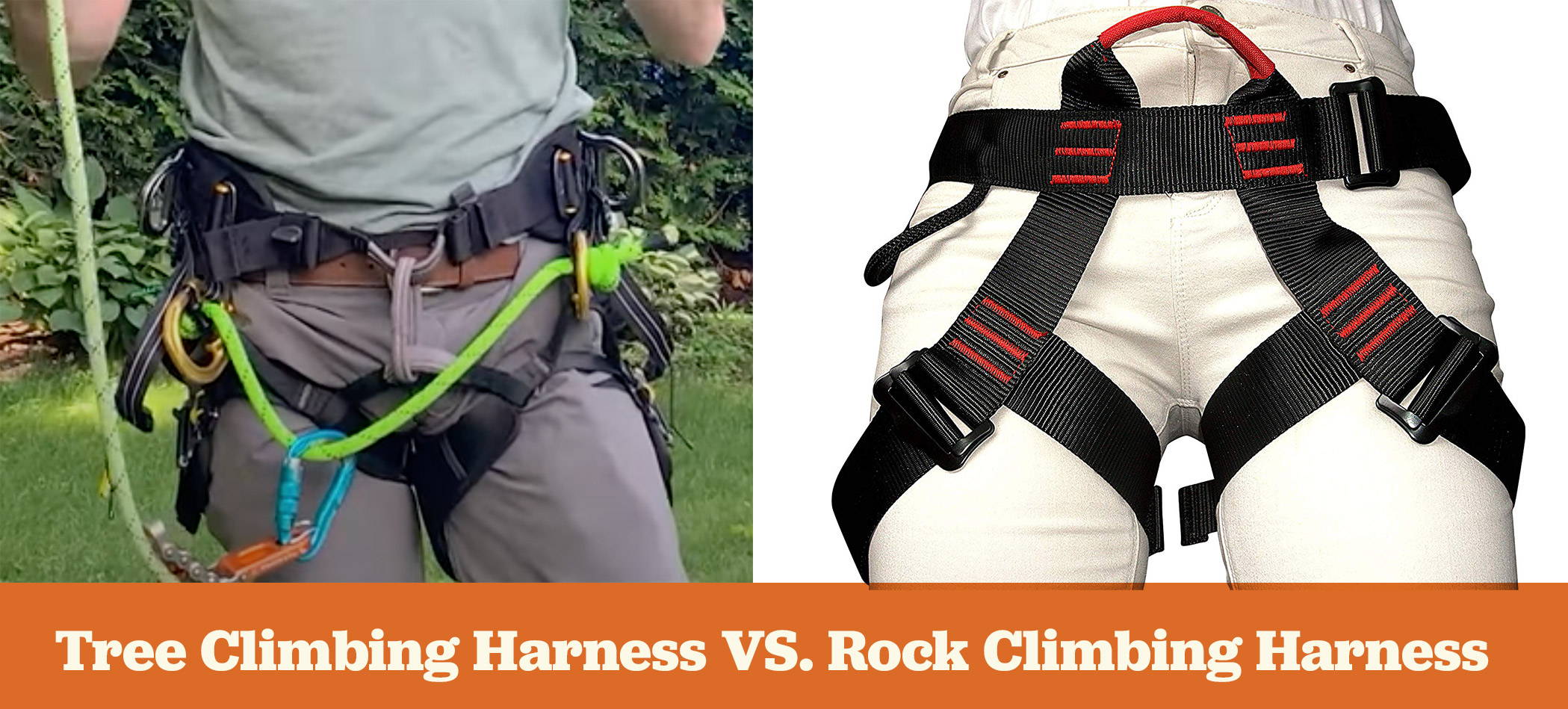 What else do I need in my tree climbing kit?
If you're working as an arborist, your gear is indispensable. You might find our Premium Tree Climbing kit to be all you need to get started in the field, or when it's time to upgrade your gear. In addition to the Petzl Sequoia harness, it includes the basic elements of the split tail climbing system. Here's the full list:
180' Notch Acculine 2.2mm Throwline

180' Notch Acculine 1.75mm Throwline

10 oz Notch Throw Weight

12 oz Notch Throw Weight

14 oz Notch Throw Weight

Weaver Folding Throwline Cube

Petzl Sequoia Saddle (Size 1 or Size 2)

Small Petzl Caritool

Large Petzl Caritool

Flipline with Rock Exotica Rockgrab Lanyard Adjuster

HiVee Split Tail

Notch Micro Pulley with snap

Tree Climber's Companion Book

Notch Pro Large Bag

Petzl Pantin (right foot)

Weaver Ditty Bag

(4) Notch D Carabiners

150' of Yale XTC 16-Strand Climbing Rope
Take a step up with our Advanced Tree Climbing kit, which contains a wide range of tree climbing gear to get you started. You'll get the revolutionary TreeMotion EVO harness, with great adjustability to fit tree climbers with waists from 30" to 41". This kit also includes the basic elements of the Hitch Climber system designed by the Treemagineers.
Here is the complete list for the Advanced Kit:
The Advanced Tree Climbing kit includes:
180' of Notch Acculine 1.75mm throwline

180' of Notch Acculine 2.2mm throwline

10 oz Notch Throw Weight

12 oz Notch Throw Weight

14 oz Notch Throw Weight

Notch Pro Folding Throwline cube

TreeMotion EVO Saddle

(1) Large Petzl Caritool

(1) Small Petzl Caritool

Silky Zubat 330 Handsaw

12' Flipline with Rock Exotica Rockgrab

10mm Beeline Eye & Eye

Tree Climber's Companion book

Notch Pro Large Bag

Climbing Technology QuickStep Foot Ascender (Right)

Weaver Ditty Bag

Weaver Drawstring Storage Bag

(2) Notch D Shape Carabiners

(2) DMM Ultra Oval Carabiners

DMM Hitch Climber Pulley

150' of Notch Banshee Climbing Rope with (1) Tight Eye Splice