TreeStuff and Kask presented the first climbing competition judged remotely by a panel of the most respected safety experts in the arborist industry and the online community!
13 teams from all over America competed in 3 unique rescue scenarios, filmed their submissions and had them edited by TreeStuff.
Together we created the most comprehensive FREE Aerial Rescue training library in existence. We encourage you to review these videos and discuss them with your crews and colleagues. Determine what the teams did right and wrong, review the judges scores and commentary, and use these as tools in your own professional development.
---
---
2020 Rescue Rally Winners: DAVEY TREE TRAINERS

All of our teams put forth an unprecedented effort to design the scenario per the guidelines, execute the rescues, and film the whole thing all on their own! Together we created a durable, lasting training reference with over 25 unique rescues filmed, documented and scored by an expert panel and the community. These videos serve as a reference of good and bad practices that others can learn from down the line!
---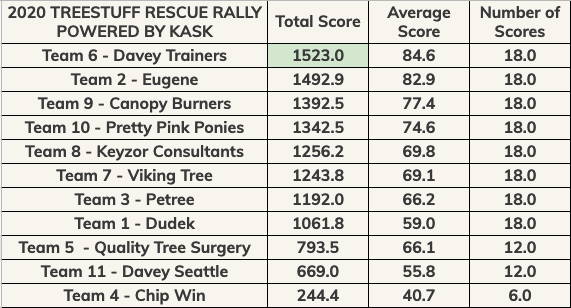 ---
---
---

Travis Vickerson - is the VP of Operations for Chippers Inc, a repeat Jambo Head Judge, TCIA approved instructor, TCIA Qualified Crew Leader, CTSP, ISA CA, and a NCCER Crane Operator.
Tim Walsh, Davey Tree - Walsh joined Davey in 2015 as safety manager and is now the Director of Corporate Safety. He currently serves as a director on the board of the Utility Arborist Association (UAA) and is a champion for the UAA Safety Committee.
Dr. John Ball - John is a Board Certified Master Arborist, a Treecare Safety Professional, and an Advanced EMT. He previously managed tree care and PHC programs in tree companies in the Midwest and East.
Taylor Hamel - Is a Certified Arborist and DMM Technical Resource for N. America. He leads Aerial Rescue Judging at major events such as EUTCC and NATCC
Kristian Michael Schultz - A national proctor and pioneer of the CTSP exam, Kristian is ALL about safety. Also a certified arborist and a long time judge at ITCC and Jambo events.
Krista Strating - Krista Strating is a Certified Arborist and Climber specialist. She has been a climbing instructor at Humber College for 9 years. She has competed for 11 years and currently holds the North American, Ontario, and JAMBO titles. She also was World Champion in 2018. Krista also is a climbing instructor for the Women's Tree Climbing Workshop.
The Online Arborist Community - You can rally your crew for our live broadcast events and even be a judge yourself, casting your vote on the same scorecard as our main judges. The compiled community votes average in to one full vote! Click here to get involved with the judging.
Click here for full rules